High-Quality Guitar Kits | The Best DIY Build Packages
Guitar Goblin is supported by its audience. When you purchase through links on our site, we may earn an affiliate commission.  Learn more here.
Making the decision to build your own guitar is certainly a commitment. Considering the time investment and effort involved, you'll want to make sure you're starting your DIY project with Grade-A materials. Otherwise, you'll likely not be happy with the results.
Aside from the guitar components provided in your new kit, you'll also need some tools. Some of them you'll likely find in your garage, but there are a few specialized tools you'll want to buy if you're planning on building a guitar that's worth playing.
In this article, we're going to point you toward some high-quality guitar kits for your DIY build, and the best resource for luthier tools. The first two options will be the best quality budget builds, while the second two will be the top-tier guitar kits.
(Click On Any Image For More Info)
Image
Title
Price
Prime
Buy

Top

Top

Top

BexGears DIY Electric Guitar Kit - Okoume Body, Maple Neck,Composite Ebony Fretboard

Prime

View On Amazon

Top

Top

BexGears DIY Electric Guitar Kit - okoume Body maple neck & composite ebony fingerboard

Prime

View On Amazon
Leo Jaymz DIY Electric Guitar Kit - Mahogany Body, Maple Neck and Rosewood Fingerboard

Prime

Eligible

View On Amazon
Product prices and availability are accurate as of the date/time indicated and are subject to change. Any price and availability information displayed on [relevant Amazon Site(s), as applicable] at the time of purchase will apply to the purchase of this product.
Prices pulled from the Amazon Product Advertising API on:
Solo Guitar Kits
Best Entry Level Guitar Kits
(More Info On This Product Here)
Solo Music Gear Ltd hit the scene in 2008 and has been gaining popularity ever since. Their prices are good and they make a great first build kit.
It's likely that you'll want to upgrade some of the hardware or electronics at some point, but that's going to be the case with a lot of student-level guitars you buy off the shelf anyway.
StewMac Guitar Kits
Best Quality Kit On A Budget
StewMac is the one-stop luthier shop. They have everything you could ever imagine to build a guitar, including the tools. Whether you're building an electric guitar, acoustic, bass, mandolin or even a banjo – they have it.
Included in that inventory are some decent guitar kits. They have all your basic body styles, including a well-reviewed 335-style hollow body and some minis if you'd like to do a build with your kid.
StewMac also has great online resources, such as training videos and article tutorials. While a lot of their tools are expensive and of professional quality, their guitar kits aren't priced that badly. They're also of good quality.
Precision Guitar Kits
Highest Quality Unfinished Kits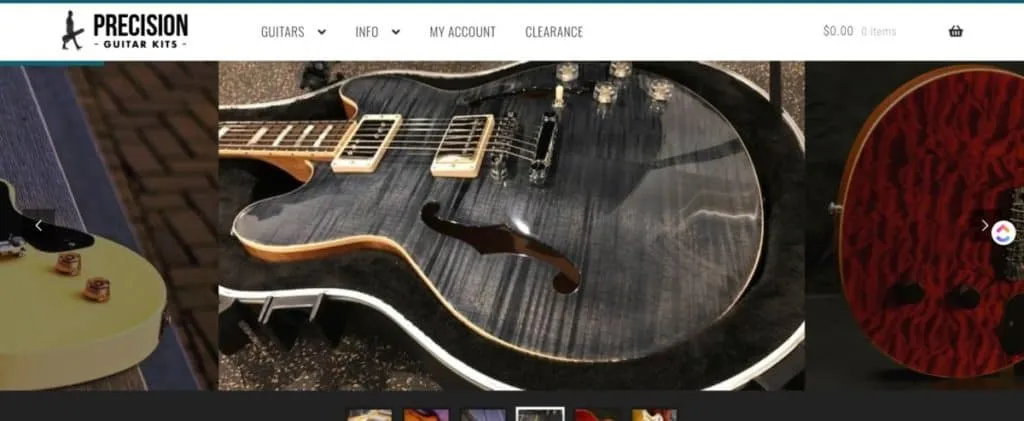 Precision Guitar Kits is truly a high-quality provider of DIY guitar kits. You'll need to source your hardware somewhere else, but each kit comes with both the neck and guitar body.
The best way to go with this vender is to use their "Made To Order" feature. There are a lot of options here including the type of body wood, carved-top cap wood, pick-up arrangement, bridge type, neck wood, fret wood and more.
Now, unlike Warmoth, all of these guitar kits will be shipped unfinished. Usually, people looking to build their own guitar want to do their own finishing anyway.
Warmoth Guitar Kits
Best In Options and Customization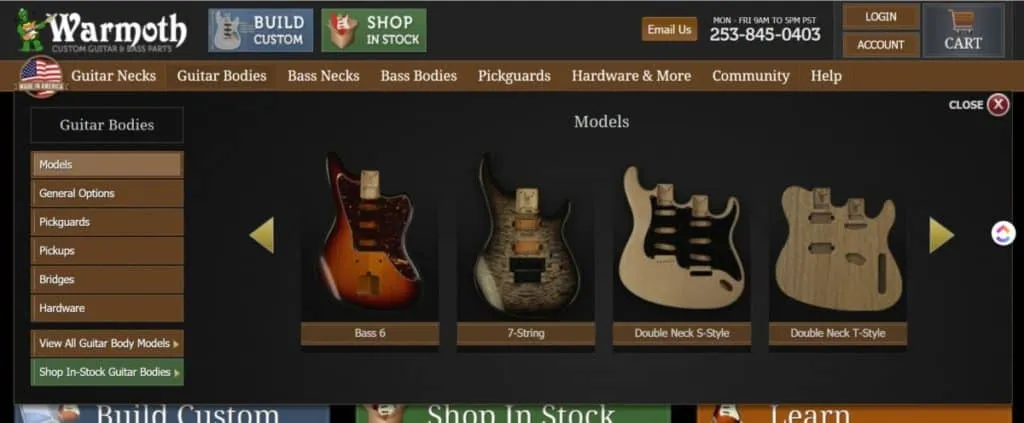 If you're not worried about money, then you might opt instead for a Warmoth guitar kit. Here, you'll have the option to purchase individual body parts or to build a custom kit.
At Warmoth, you'll have infinitely more options. They have just about any style you could think of, plus you can get finished bodies and necks. This greatly reduces the skill and time required for a DIY guitar build.
Again, with all that said, you get what you pay for. Warmoth is going to cost you, so it might not be the best option for your first build. But if you're really looking for a high-quality guitar kit, this is one of the top choices. There is, of course, less room for error with those prefinished bodies though.
Best Luthier Tools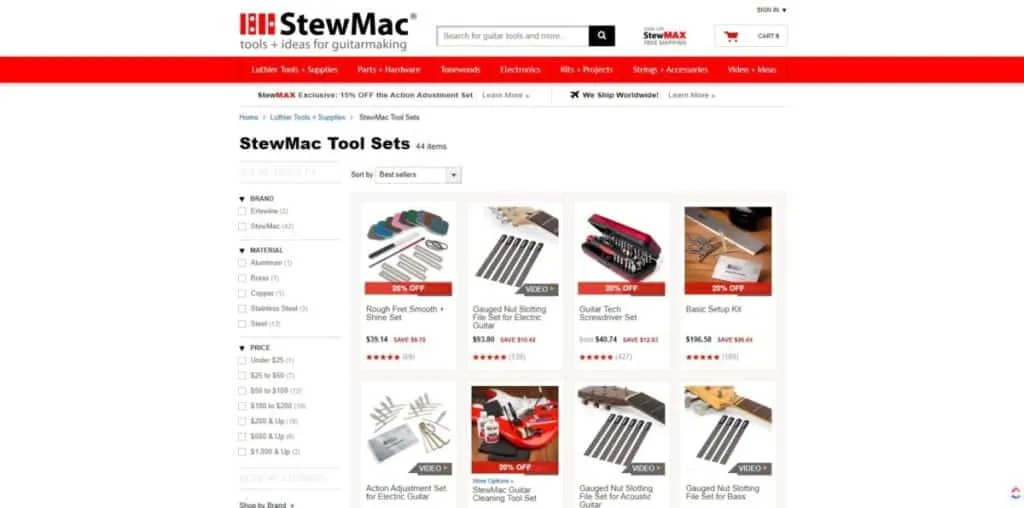 While a lot of tools that you'll be using for your new guitar build won't be that specialized, some of them will be. Especially when we get to the fret dressing step.
You'll want to have a leveling beam, fret shaping files and a fret rocker. You might also need a fretting hammer if the frets aren't already seated.
Hopefully, your fret rocker will double as an action gauge. Other than that you should probably pick up a set of radius gauges and a precision straightedge.
StewMac (found here on Amazon) makes the best luthier tools you can get just about. You're going to pay a little more for them, but trust me when I tell you it's worth it.
You're going to end up using these tools for every new guitar you buy, so you can finish your own frets. Yes, this is something that you'll most likely need to do even with a brand-new guitar. I say that to say – it's a worthwhile investment to have these tools at your disposal.
Are DIY Guitar Kits Worth IT?
Certainly, completing a DIY Guitar Kit can be a very rewarding experience and quite worth it. You'll learn a variety of skills that you can use on future projects, including repairing your other guitars.
These skills include finishing, wiring your electrical components and dressing your own frets. You'll be able to take just about any new guitar off the shelf and make it play like dream. You might even find that you've discovered a new passion that could last a lifetime.