Carvin Guitar Kits – What Ever Happened To Them?
Guitar Goblin is supported by its audience. When you purchase through links on our site, we may earn an affiliate commission.  Learn more here.
So, you're looking to build your own guitar and the first thing that comes to mind is Carvin! The Carvin Corporation used to make the best DIY guitar kits.
Chances are, you hopped on your browser and searched for "Carving Guitar Kits" but came up short. There is a perfectly good reason for that.
What Happened To Carvin Guitar Kits?
In 2015, Carvin Corporation split its guitar division off into a second company called Kiesel Guitars. Kiesel continued manufacturing guitar kits until phasing them out at the end of 2019. Unfortunately, Carvin Guitar Kits are no longer available for purchase.
(Fret not, though – we'll include some great alternatives below.)
Check out our list of YouTube's greatest guitarists…
Do They Still Make Carvin Guitars?
After splitting their guitar division off into a second company, Carvin began concentrating on speakers, wireless monitoring systems, microphones and other audio equipment. Kiesel now makes high-quality guitars in place of Carvin.
The History Of Carvin/Kiesel Guitars
In 1946, Lowel C Kiesel started the L.C. Kiesel Company in San Diego, CA. They began by manufacturing guitar pickups and then expanded into building entire guitars.
Building mostly steel guitars at first, they became an authorized reseller of Fender, Martin and DeArmond guitars. At the beginning of the 1950s, the L.C. Kiesel Company name was changed to Carvin Corporation after the family's two eldest sons, Gavin and Carson.
Over time, Carvin began manufacturing more of their own equipment and selling less merchandise from third-party manufacturers. Carving out a niche by creating a mail-order catalog, they grew tremendously over the following decades and ended up manufacturing amplifiers, recording equipment, bass guitars and even stage lighting.
By the 1980's they started offering custom-built guitars and basses, which they became well known for. Following the popularity of their custom-built guitars, they used their already existing parts inventory to create DIY guitar kits.
In December of 2009 their founder, Lowell C. Kiesel passed away. In 2015, Carvin announced they would split off their guitar business into a second company named "Kiesel Guitars", after their founder and father.
Today, you can expect the same pristine quality from Kiesel guitars as you did from Carvin. They've produced substantially more innovative designs and are now building guitars with better precision equipment.
You can also check out these great guitar Kits available on Amazon:
Image
Title
Price
Prime
Buy

Top

Top

Top

BexGears DIY Electric Guitar Kit - Okoume Body, Maple Neck,Composite Ebony Fretboard

Prime

View On Amazon

Top

Top

BexGears DIY Electric Guitar Kit - okoume Body maple neck & composite ebony fingerboard

Prime

View On Amazon
Leo Jaymz DIY Electric Guitar Kit - Mahogany Body, Maple Neck and Rosewood Fingerboard

Prime

Eligible

View On Amazon
Product prices and availability are accurate as of the date/time indicated and are subject to change. Any price and availability information displayed on [relevant Amazon Site(s), as applicable] at the time of purchase will apply to the purchase of this product.
Prices pulled from the Amazon Product Advertising API on:
Carvin Vs Kiesel
To recap, Kiesel is now the company that began as Carvin's guitar manufacturing division. While Carvin makes PA systems, speakers and general audio equipment, Kiesel makes high-quality and custom-built guitars and basses.
Both companies still produce equipment of great caliber. They just produce different equipment. The Kiesel guitar line has even surpassed their previous Carvin models of the past.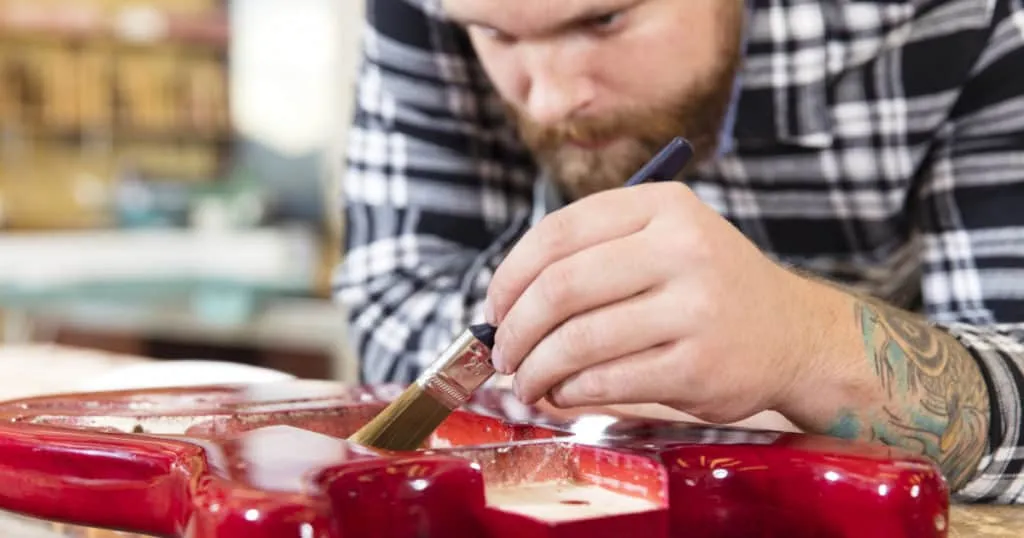 Carvin Guitar Kit Alternatives
While you won't be able to find a Carvin kit for your next build, there are a couple of great alternatives. There are only two companies that come to mind when trying to find a kit comparable to Carvin's. The two of these companies are of high quality:
You can also check out our complete article on High Quality Guitar Kits here.
Kiesel does, however, still sell their pickups, hardware and other guitar accessories direct via their website.
Recommended Reading
I feel this article would be incomplete without our favorite How-To book on building electric guitars. How To Build Electric Guitars by Will Kelly covers everything from finishing to assembly, electronics, fretwork and setup. It's available in Paperback and Ebook. You can view more details on their Amazon page.
Conclusion
While DIY guitar kits are no longer available from Carvin, or Kiesel for that matter, there are still quality options on the market. Meanwhile, they're still manufacturing custom guitars and pristine audio gear.
You might decide to purchase a Precision Guitar Kit while using Kiesel parts and hardware? That sounds like a recipe for success to me.