Brett Papa Review – Membership Course and YouTube Channel
Guitar Goblin is supported by its audience. When you purchase through links on our site, we may earn an affiliate commission.  Learn more here.
If you've ever found yourself on YouTube looking to brush up on your guitar playing, you've probably seen the name Brett Papa more than once. If you're smart, hopefully, you've checked out a few of his videos!
While there are dozens of guitar instruction websites and YouTube channels to choose from, there may only be a few who will teach in a style that works for you. For a lot of people, Brett Papa has been one of those instructors.
Brett is a professional guitarist who's been making instructional YouTube videos for over 10 years. He also offers a paid instructional course on his website, which contains a large variety of guitar lessons for just about any skill level.
Of course, when it comes to then paying for a course the question becomes – Is it worth it? Well, we hope to answer that in this article. This is our complete Brett Papa Membership Course Review.
Who Is Brett Papa?
Brett Papa is a professional guitarist perhaps best known for his popular Youtube channel. He has been performing and teaching music professionally for more than ten years, and his approachable training methods have made him very popular for aspiring guitarists.
(You can read Brett's Bio here…)
Brett's Youtube channel includes countless hours of instructional videos where you can quickly gather an idea of his playing and teaching style. While, admittedly, two of his biggest influences are Hendrix and Van Halen, I think you'll find that he has a blues/rock approach that's fairly unique to himself.
As far as his teaching goes, Brett is a CAGED maniac! But, in the best way. Between his chord shape soloing approach and his Jimi Hendrix deep dives, he offers the ability to see the entire fretboard in an entirely new way.
One unique aspect of Brett Papa's guitar lessons is that he frequently hosts other professional guitarists. This allows his videos to have a broader perspective of technique and application than a lot of other guitar channels.
While there is a lot of content freely available on Brett's Youtube channel, there is even more when you get into his paid instructional courses. Speaking of which, let's jump right into that!
Reviewing BrettPapa.com Paid Guitar Courses
Mozying on over to BrettPapa.com, you're given a few options. You can choose to purchase one of his individual courses, or you can unlock them all at once with a yearly membership.
Some of the popular courses include "CAGED Unleashed", "Hendrix Unleashed" and a series on "Blues Soloing Secrets". You'll also find a few courses from Tim Pierce and Robbie Calvo.
The Brett Papa membership course is definitely the deal to be had though. This option allows you to pay for a yearly subscription to access almost every course available in the store, plus a ton of "Members Only" content that isn't available anywhere else.  
The included material has something for most skill levels, covering everything from complete beginner classes to more advanced lessons.
While the videos don't have any embedded tablature or other visuals to follow, most lessons have their own downloads. These include things like tablature, scale charts, drum tracks and full backing tracks.
Courses Included In Brett Papa's Library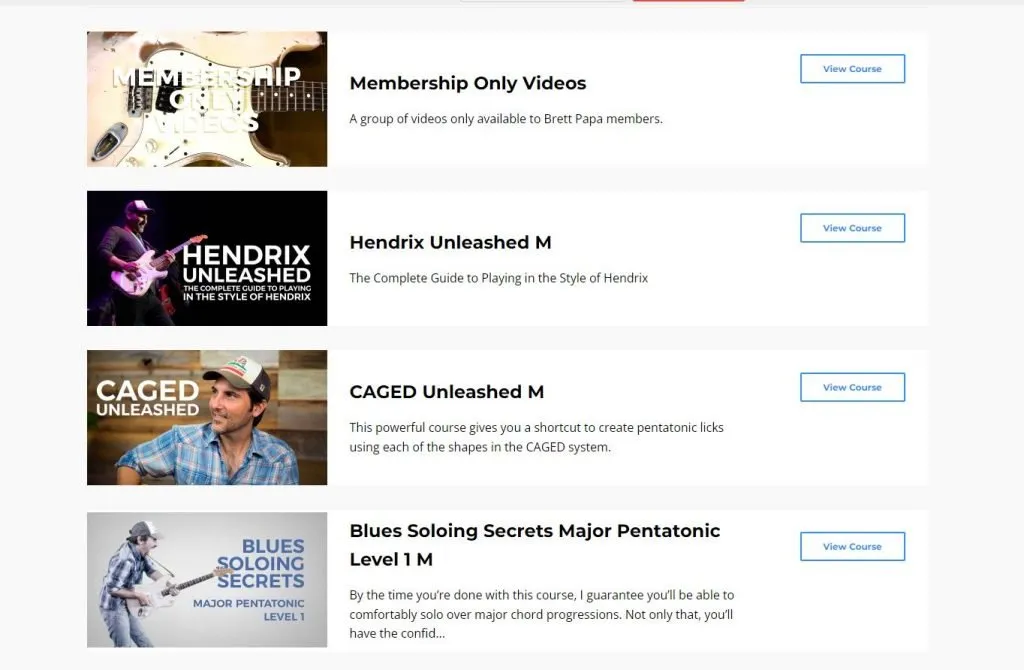 The courses in the Brett Papa membership area are continually growing and expanding. Even since I purchased a membership to review, new material has been released.
While I can't possibly go into every video available in the courses, I can list for you the courses that are available as of the time of this publishing. Each one of the following curriculums has a ton of videos within each category.
Membership Only Videos
Hendrix Unleashed
CAGED Unleashed
Blues Soloing Secrets Major Pentatonic – Level 1
Blues Soloing Secrets Major Pentatonic – Level 2
Blues Soloing Secrets Minor Pentatonic – Level 1
Blues Soloing Secrets Minor Pentatonic – Level 2
Mixing Major and Minor Pentatonic
Stache Of Licks – Major Pentatonic
Stache Of Licks – Minor Pentatonic
Tim Pierce's Making The Song
A Session Man's Guide To Rhythm Guitar with Tim Pierce
A Session Man's Guide To Lead Guitar with Tim Pierce
Blues Rock Connection with Corey Congilio
Complete Blues Guitar – Volume 1 with Corey Congilio
Complete Blues – Volume 2 with Corey Congilio
Blues Rock Masters – British Edition with Jeff McErlain
Fretboard Command
Free Lessons
The free lessons page contains mini-courses touching on several of the topics above, such as videos on Blues Soloing and playing "Hard Rock Licks With Attitude". While you can find many of these on his YouTube channel, brettpapa.com's free section definitely isolates some of the meatier lessons.
All of that being said, for obvious reasons, they don't go into nearly the same amount of detail as his paid courses and membership lessons. I would expect that though.
Check out our tutorial on mastering the major pentatonic scale here…
Brett Papa App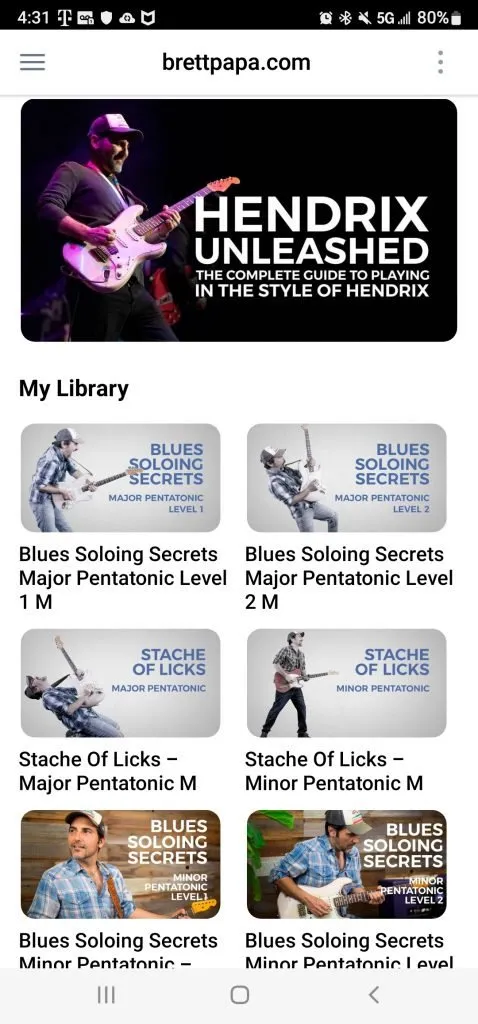 Along with his membership site, there is also the Brett Papa App. I have to say, I wasn't expecting too much out of the app. There are just too many companies and websites that try to launch an app and fail miserably. Even tech companies. This app is actually really good.
As far as I can tell, Brett has built this site on a platform called Kajabi which is specifically designed for hosting study courses, coaching and membership sites. Kajabi also has an app, which seamlessly integrates with the content on their websites.
It's totally worth it. I was at least expecting not to have access to some of the downloadable resources or something like that. Seriously, it's all there – the complete experience. It's a huge bonus to be able to have quality lessons anywhere you go, without having to navigate a mobile browser.
What We Liked
First of all, Brett Papa is just a really likable guy. He's humble but confident and he can play a mean guitar. Between this and his approachable teaching style, there's already a great foundation for learning before we even consider the content.
Personally, my favorite is the Hendrix Unleashed course. There is a lot you can carry with you in your own playing when it comes to breaking down Jimi's rhythm techniques.
We all know Hendrix loved using his thumb over barre chords. It allowed for an expansive array of chord fills, which made his verses just as impressive as his solos oftentimes. Brett does a great job of analyzing common scale patterns that connect these versatile chords all over the neck.
The site is also very well-rounded and great for most skill levels. There are a lot of downloadable and printable resources which become extremely helpful while following along in the lessons. We especially liked the performance videos with downloadable backing tracks for practice time. 
What We Didn't Like
Although we thoroughly enjoyed the courses, we would have liked to have seen on-screen illustrations such as tablature and scale charts (within the video frame).
In the CAGED scale tutorial, for instance, there are areas where displaying the chord diagram along with the accompanying pentatonic position would have been really helpful. In the song tutorials and lick example videos, real-time tablature would also be a huge improvement.
And as mentioned above, though, many of the lessons have downloadable resources which are very thorough. I'd recommend printing the tabs or having them on a second computer screen during each lesson.
Lastly, it's always nice to have a monthly payment option instead of having to subscribe for an entire year. Then you can try it out without breaking the bank. Of course, though, I understand Brett has a business to run!
Review Conclusion
Brett Papa is a beast of a guitar player who has dedicated his life to teaching others to play. He's certainly poured his passion into creating expansive and well-thought-out guitar courses.
I would say that if you're only looking to learn how to play some cool songs, this might not be the course for you. If, however, you want to learn the theory and technique behind these songs as you play them, then this is a strong buy.
One thing is for sure, this course has the meat and potatoes to turn a "guitar player" into a "guitarist". I thoroughly enjoyed reviewing the Brett Papa membership course and I'll likely continue to revisit the lessons moving forward.
In closing, I'll say that the best value definitely lies in the yearly membership plan, as opposed to purchasing one course at a time. You can check out the current pricing here.