Best YouTube Guitar Teachers – Channels That Rock
Guitar Goblin is supported by its audience. When you purchase through links on our site, we may earn an affiliate commission.  Learn more here.
There are a lot of guitar instructors out there to choose from. Of those, though, many are hacks and the great ones are usually quite costly. Fortunately, YouTube is packed full of amazing guitar lessons from dedicated teachers.
We live in a time where there's pretty much nothing you can't learn to do on YouTube. It wouldn't be an exaggeration to say that I've gained more applicable knowledge online over the years than I ever did in school (that isn't to say that school isn't valuable – Just a personal observation).
Whether you're trying to learn a few chords, a new song, how to write your first solo or even advanced music theory – you can be sure it has been covered in pretty good detail.
So, grab your axe and sit back, cause' we're about to show you The Best Guitar Teachers YouTube Has To Offer. No matter your skill level or genre of choice, you'll be able to learn a ton with some of these channels.
Check out this article on The Best YouTube Guitarists…
Brett Papa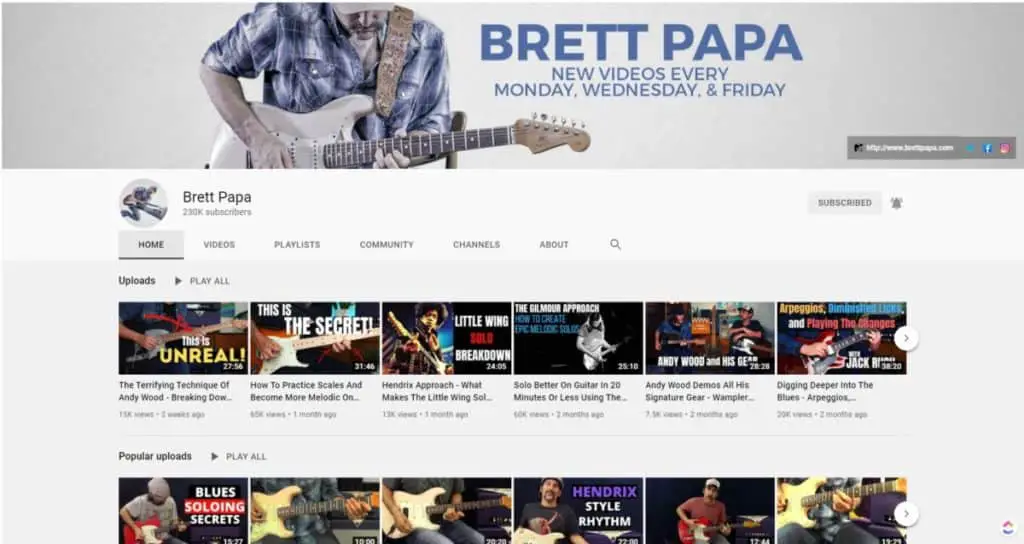 Brett Papa, AKA "Papastache", is a professional musician along and an incredible teacher. He's been providing quality instructional content on YouTube for over a decade with videos geared toward the intermediate and advanced players.
This channel is packed with lessons to get your lead in order while taking your rhythm guitar to the next level. He covers songwriting, soloing, slide guitar, advanced rhythm techniques and more. Papa also covers recording and has a ton of gear demos.
His target genres mostly include Rock, Blues and Country music.
Paul Davids
Paul Davids is an accomplished guitarist from the Netherlands with Bachelor's Degree in Music from the Rotterdam Conservatory. His YouTube channel focuses on teaching guitar, but he also has some original music to check out while you're at it.
Davids is very precise and eloquently spoken. This eloquence is also projected into his style of playing. He takes the fundamentals of music as a science and interprets them into artistic expression. Following along with these methods can really transform your playing abilities.
You can find lessons in blues, jazz, rock, fingerstyle, music theory and application. He goes really in-depth in creative ways to apply this knowledge in your own playing, as well.
I would rate this channel for intermediate to advanced players. There are some videos for the novice that can be really valuable though.
If you've hit a rut in you're playing and are looking for some out-of-the-box thinking, you should definitely check Davids's channel out. There is stuff here you won't find anywhere else.
Check out our article on the best free acoustic guitar lessons…
Marty Music
You can't talk about the best YouTube guitar teachers without thinking mentioning Marty Schwartz. Marty Music is hosted by Marty Schwartz, a professional guitar teacher with decades of experience. His channel has approximately 3 million YouTube subscribers and countless videos and paid courses scattered across the internet.
Marty received his Bachelors of Fine Arts in Contemporary Music at The College Of Santa Fe in 1997 and has literally been teaching music ever since. From producing his own courses to private instruction and even teaching music in an elementary school at one point, he's well seasoned and passionate about what he does.
While he's probably best known for teaching the riffs to your favorite songs, his channel covers much more than that. Lessons range from scales, soloing and strumming patterns to slide guitar and even bass. He also covers things like guitar shopping, gear and maintenance.
As far as genre goes, he's pretty diverse. Just about anything with a guitar in from the 1960's up until today's rock and pop hits.
We're going to rate him for the beginner to intermediate guitar student. There are many great guitar players that will find themselves watching a Marty Schwartz video now and then though.
The Art Of Guitar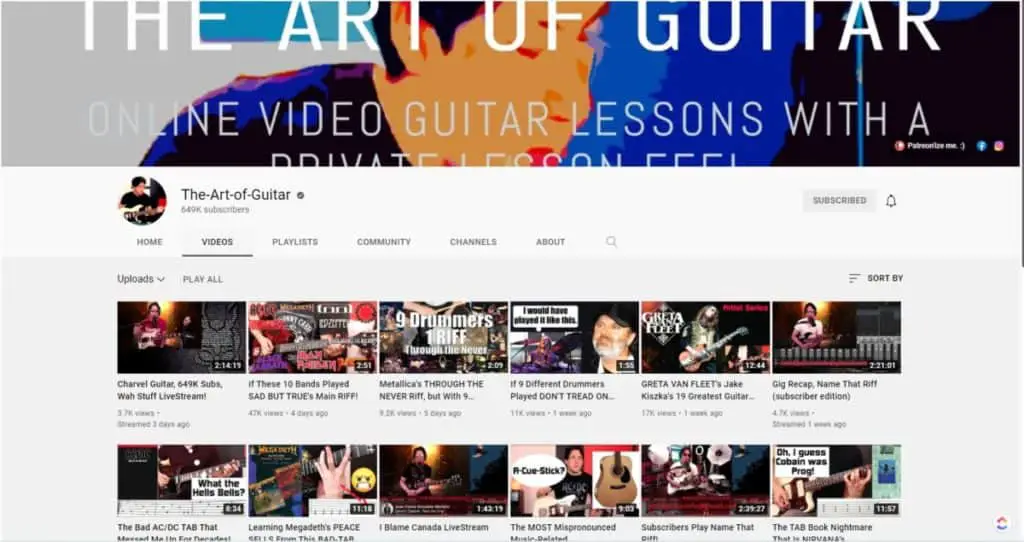 The Art Of Guitar is another great YouTube Channel. The man behind the curtain on this one goes only by the name of Mike G. He has over 25 years of teaching experience under his belt and definitely knows what he's doing.
This is a channel I think you can enjoy at all skill levels. There is plenty of beginner material, a lot of material for the intermediate player and a bunched of pretty advanced classes to keep you busy.
Most of the lessons are rock-focused, and there is a bunch of blues tutorials. Mike also has live streams sometimes where you can ask him questions on the spot.
Andy Guitar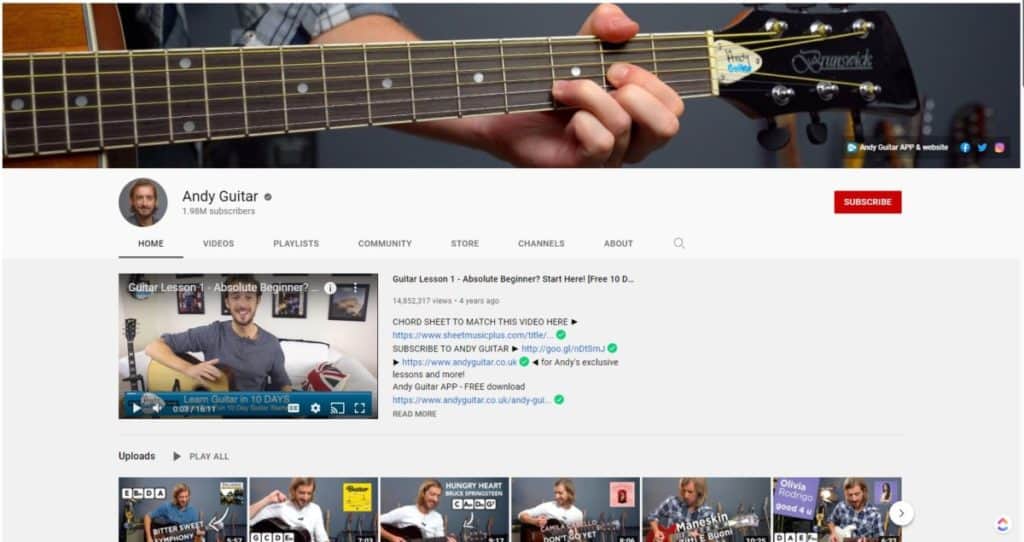 Andy Guitar is a popular and growing YouTube channel hosted by Andy Crowley. With about 2 million subscribers, there is a ton of content on this channel and new videos posted every week.
Andy producers lessons with the beginner in mind, which is really helpful for those who are just starting out. He teaches the basic fundamentals of playing the guitar and breaks down a ton of songs, so you can stay motivated in the process.
Topics include playing basic chord progressions, scales, fingerpicking, soloing and even playing the Ukulele.
JustinGuitar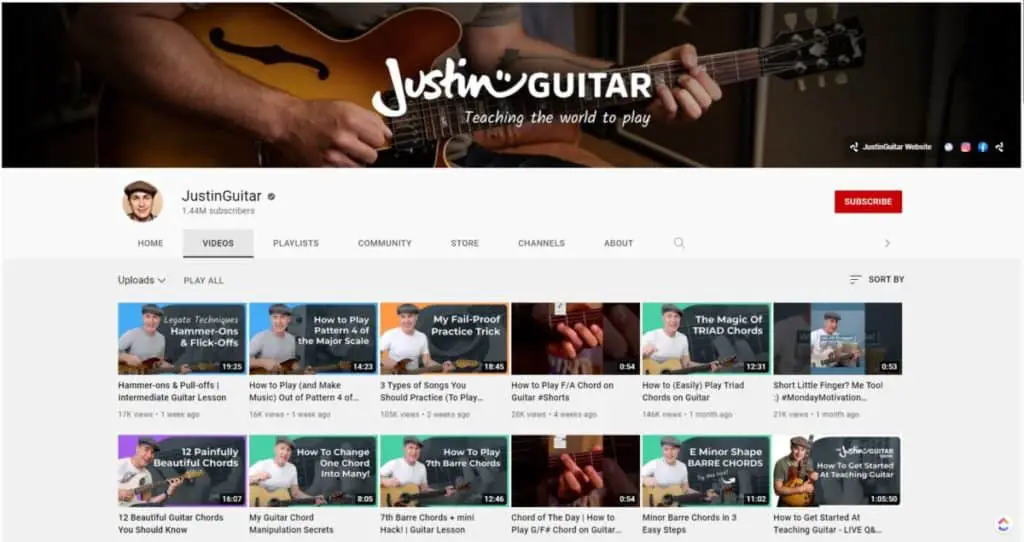 Justin Sandercoe's YouTube channel entitled JustingGuitar is another really popular option. His videos have generated hundreds of millions of views and his courses are backed by multiple celebrity endorsements.
Justin started gigging when he was just 12 years old and has toured the world playing thousands of live shows during his lifetime. He attended both the Tasmanian Conservatorium of Music and The Guitar Institue in London (where he later taught). He was named as one of the UK's top 10 YouTube celebrities and has even been called "one of the most influential guitar teachers in history".
His credentials go on, and you can check out his about page here. Long story short – he knows what he's doing.
This channel is definitely geared toward the beginning to intermediate player, but I feel that the beginner will benefit most. Justin has a unique and organized way of presenting the basics. Some of which you might not even know you were missing.
Conclusion
There you have it! YouTube's best guitar teachers laid out in one article. From beginner lessons all the way up to advanced; blues, country, rock, pop and metal.
We'll probably add more as time goes by to keep things current and keep an eye out for more "Channels That Rock" as we'll be featuring much more.