Best Guitars For 7-Year-Olds – A Detailed Guide
Guitar Goblin is supported by its audience. When you purchase through links on our site, we may earn an affiliate commission.  Learn more here.
Seven is a great age to introduce your child to the guitar. Especially, if they've shown interest on their own. But, with so many options, where do you begin?
For a child's first guitar, it's best to keep it simple. You can start by deciding whether you're purchasing an acoustic or an electric. Next, you'll need to find an appropriately sized guitar of decent quality.  That last part is where you'll need more guidance. 
In this article, we're going to give you a list of the best and most dependable guitars for 7 years olds. Then we'll let you know what, if any, accessories you should think about getting go along with it.
(You can also check out our Kids' Guitar Buying Guide found here)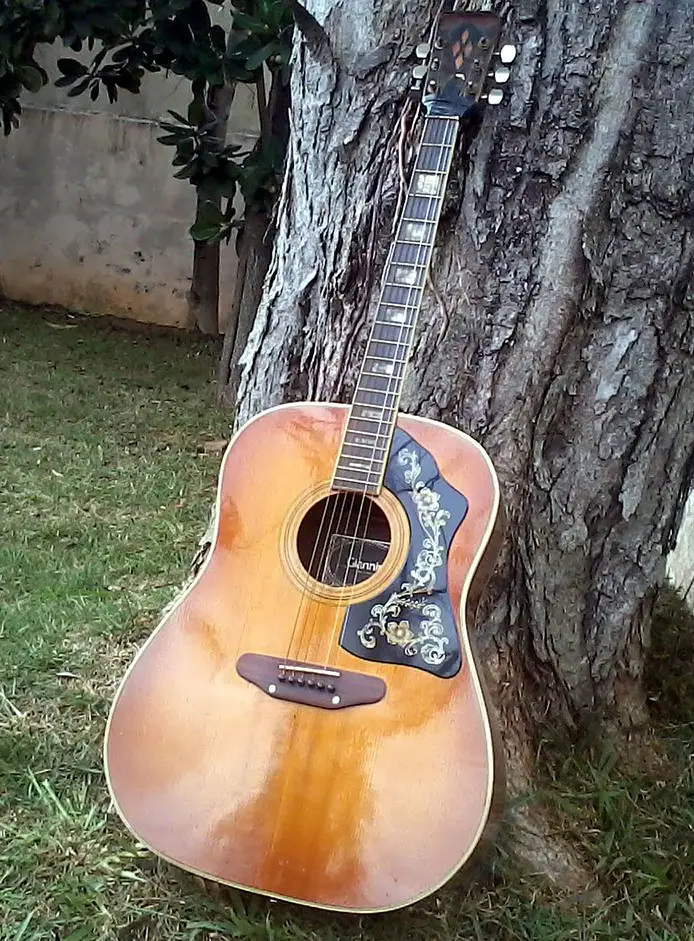 What Size Guitar Should I Buy For A 7 Year Old?
The best-recommended guitar for a 7-year-old is a 3/4 size 6 string. If your child is small for their age, then you may venture into the 1/2 size category.
At seven, they're kind of on the cusp between a 1/2 size and 3/4 size but they will quickly grow out of the 1/2 size at that age. There are also better quality choices among the 3/4 guitar category – as opposed to a lot of 1/2 size guitars being more like toys (there are exceptions to that).
In this article, we've listed exclusively 3/4 size. If you'd rather go with a 1/2 size guitar, I'd recommend trying your little one out on this Yamaha Classical Acoustic Guitar (Amazon link). We also have a steel-string acoustic below that we mention as being on the small side of 3/4. That may be a good way to go.
The 3 Best Electric Guitars For 7 Year Olds
Electric guitars plug into an amplifier with a 1/4″ (TS) guitar cable. So, if you go this route you'll need at least those three items. You'll also need a tuner. Tuning the guitar will likely be your child's very first lesson.
These recommended guitars have reasonably low "action" and a neck that allows the action to be adjusted ("Action" is just the distance from the string to the neck). The greater the action the harder the string needs to be pressed down to touch the fret – making the guitar harder for beginners to play.
And of course, each of these guitars will hold their tuning and have adjustable intonation.
This Squire Mini Stratocaster Bundle (found here on Amazon) is at the higher end of the recommended price range, but for good reason. Squier is a very well-known name under the Fender umbrella, and the quality of a Squier guitar will typically be very high in comparison to other student-level models.
This guitar is a close replica of the infamous Fender Stratocaster, using the same standard components as a full-size Squier but with a smaller neck profile and scale length. Squier is able to make their models cheaper by using different hardware materials, other types of wood, thinner bodies and cheaper, outsourced labor.
There are left-handed models available as well as combination packs that have everything you need to get your 7-year-old started. The guitar is also available in a variety of classic Fender paint colors and body styles. The Stratocaster body style is a great place to start, with its classic looks and simple layout. 
2. LyxPro 30 Inch Electric Guitar and Starter Kit
The LyxPro 30 Inch Electric Guitar and Starter Kit (found here on Amazon) is an excellent value that includes everything you need to get your 7-year-old's rock and roll career started. The combination set includes an amplifier, clip-on tuner, strings, gig bag, neck adjustment tool, and guitar picks. In short, if you're looking for a 1-package deal that will be a ton of fun with no hassle, this is another great option. 
LyxPro might not be a household guitar name, but for a beginner, it's more important to have a simple guitar on which to learn. This guitar fits the bill perfectly. There are ¾ and full-size options available in a variety of colors and body styles.
3. Ibanez 3/4 Size Mikro Electric Guitar
The Ibanez GRGM21BKN 3/4 Size Mikro is a fantastic guitar for kids to start out with. Ibanez is another household guitar name, admired by shredders and even blues guitarists alike. This guitar's striking looks and Ibanez quality will be a blast for any 7-year-old rocker to open.
With its killer looks and great hard-rock sound, there will be a place for this guitar in this their gear collection for many years to come. It's a great travel guitar. My stepson has one in Jewel Blue.
The Mikro uses 2 humbucker pickups, which is a common setup for a wide variety of musical styles. The bridge uses a hardtail fixed-bridge design that should make it easier for a junior player to keep in tune. The only problem will be actually giving it to your 7-year-old; you might want to keep this guitar for yourself!
If you choose to buy this model, you'll need an amp, 1/4″ guitar cable and a tuner (all recommendations are listed below).
The 3 Best Acoustic Guitars For 7-Year-Olds
Similar to our electric guitar recommendations, these acoustic models were chosen for their kid-friendly ¾ size, value, quality and playability. 
It's worthwhile to consider the option of a nylon string guitar rather than a standard steel string acoustic model for young players. Nylon strings have lower tension and don't wear on the fingers as much as steel – in fact, younger kids can be intimidated by the sharper steel strings on an acoustic.
Nylon will get your 7-year-old up and running faster, however, you might end up replacing a nylon string guitar with a steel-string model after a few years, especially if your child wants to play more modern music.
There are also many acoustic/electric guitars around, most of them being full-size. This is a fantastic feature for later on, but it's clearly unnecessary for a 7-year-old beginner. Our recommendations focus on simplicity and quality rather than going for tons of complicated features. 
Click here for the best beginner guitar lessons online for acoustic guitar…
1. Fender FA-15 3/4 Scale Kids Steel String Guitar
🥇Editors Pick
with Gig Bag, Tuner, Strap, Picks, Fender Play Online Lessons, and Austin Bazaar Instructional DVD – Red https://www.amazon.com/dp/B08SMNMGM5/ref=cm_sw_r_cp_api_glt_fabc_92F91R5C4AKGKS0B0018?_encoding=UTF8&psc=1
The Fender FA-15 Learn-to-Play Bundle (found here on Amazon) is our top pick for a 7-year-old's acoustic guitar. This is another great option from Squier that comes with the essentials, including a gig bag, strap, clip-on tuner, and of course a great ¾ size Squier guitar. There are several color options available, as well as comparable full-size models if that's what you're interested in. For a mix of high quality and value, you can't go wrong with this set. 
2. Pyle 36" Classical Acoustic Guitar – 3/4 Junior Size
The Pyle 3/4 Classical Acoustic is a superb starter guitar set for the price. It includes a ¾ scale guitar, gig bag, tuner, extra nylon strings, a shoulder strap and a gift card for 2 months of free guitar lessons.
The nylon strings will be great for a new player, and in this price range there simply aren't many better deals around. If you can't picture the sound of a nylon string, think classical fingerstyle or flamenco guitar. It's a beautiful sound, but it's a bit different from a steel-string guitar.
The kit comes with all the accessories you really need without any fluff. It can be difficult to find the guitar on its own without the set, however, if that's what you prefer.
3. Yamaha JR2TBS 3/4 Scale Guitar
This ¾ dreadnought guitar from Yamaha (found here on Amazon) can be an excellent starter instrument. Yamaha might not be the first name you think of when it comes to acoustic guitars, but they have been making good-sounding guitars for many years with a proven track record of quality. 
As mentioned above this is marketed as a 3/4 guitar but it feels a bit on the smaller end. It's more of a 1/2 size guitar, but if your 7-year-old is smaller for their age, this might be perfect.
Although this guitar normally ships alone, there are options to add a gig back, a guitar stand, and a tuner in the package. If you want a pro-quality guitar that your 7-year-old can play for a lifetime, this is a great option. 
---
Recommended Accessories
Many of these items can be found in the combination packs above, but if you prefer to buy a guitar by itself and pick and choose your accessories, here are some essentials to consider. With any electric guitar sold separately, you'll need to get the following 3 items (Amp, Guitar Cable, Tuner). These are just the ones we would recommend for a 7-year-old.
Practice Amp
The Fender Frontman (found here on Amazon)
The Fender Frontman is the ideal amp for the young guitarist. This simple design houses a 10 Watt solid-state amplifier, a 6-inch speaker, and a gain, volume, bass and treble control. It features an Aux in to play with their favorite songs, a headphone output and an overdrive switch for an optional rock-and-roll punch.
Fender wraps it up with a classic blackface design. Perfect bedroom amp for a 7-year-old (or even the 30-year-old who doesn't want to get shot by his wife 😉).
Guitar Cable
Fender 10ft Guitar Cable (found here on Amazon)
Short and sweet…. literally. I think 6ft is a little short, even for practice situations. 15 feet is just wasted cable for what you're going to use it for, which is why I usually rock a 10 ft cable for practice. This cable is going to do the job and not fall apart, like some of the cheaper cables. Perfect middle ground.
Tuner
The Snark ST-8 Clip-On Tuner (found here on Amazon)
A good tuner is the #1 tool in any guitarist's kit. This clip-on tuner attaches easily to the neck of any guitar and tunes it using the vibrations in the wood, which means it works even in noisy environments. And its easy-to-read display makes it simple for anyone to use.
Picks
Fender Medium Picks – 12 Pack (found here on Amazon)
A guitar player can never have enough picks tucked away. Unless they're going to learn to fingerpick everything (which is unlikely in the beginning), they're not going to want to be without one of these when they need it.
Strings
No matter what guitar you buy, it's going to come with strings. But, changing strings regularly is going to be essential to keep a good tone and easy playing.
For acoustic guitar:
Martin Authentic Acoustic Strings (found here on Amazon)
Martin Authentic Acoustic Custom-Light-Gauge Acoustic Guitar Strings, 80/20 Bronze (not for use on nylon string classical guitar).
For electric guitar:
D'Addario Nickel Wound Strings (found here)
D'Addario EXL Nickel Wound Electric Guitar Strings, Regular Light, 10-46 (3 set pack).
Guitar Case
For acoustic guitar:
3/4 Acoustic Size Gig Bag (found here)
36 Inch Waterproof Acoustic Guitar Gig Bag – Dual Adjustable Shoulder Strap and 5mm Padding plus an Accessory pouch
For electric guitar:
Tosnail Mini Strat Gig Bag (found here)
Tosnail Mini Water-resistant Gig Bag – 10mm Padding, Dual Shoulder Straps and Accessory Pouch – Black
Conclusion
Well, there you have it. Everything you could need for a 7-year-old's first guitar wrapped up in one article.
If the options still seem overwhelming, my number one advice would be to get the 1st package on our list. In my opinion, it's perfect. Everything including the lessons in one package. Fender Squire has long been the go-to beginner guitar.
You might also find some guitars in this article featuring the best guitars on the market for 8-year-olds…