Choosing The Best DAW For Your Focusrite Scarlett Interface
Guitar Goblin is supported by its audience. When you purchase through links on our site, we may earn an affiliate commission.  Learn more here.
So, you've purchased a Focusrite "Scarlett" USB audio interface and you're ready to select your recording software. This can be a tough decision at first, as there are quite a few DAWs to choose from.
In this article, we're going to address this question along with a few others.
Why Choose A Focusrite Scarlett Digital Audio Interface
For the average guitarist, a reasonably priced digital interface will get your home studio started out nicely. There are a couple of brands that come to mind, but when it comes to a consistently dependable and quality-sounding unit, Focusrite tops the list.
These interfaces are quick to setup, extremely easy to use and they just plain sound good. Plus, they have models available for the solo artist with on a budget, which will still allow for two-channel simultaneous recording.
In addition to being able to record directly into your computer via USB cable, some models will also allow you to connect a MIDI keyboard controller, which increases your possibilities. This allows you to play along while tracking. You can even run multiple tracks simultaneously if needed.
Lastly, they come with some great introductory software to begin understanding music production. A couple of those being DAWs.
(You can find your Focusrite Scarlett here on Amazon.)
What Is A DAW?
DAW stands for Digital Audio Workstation, which is a fancy term for software used to record music. A DAW will allow you to record multiple audio and MIDI tracks, edit them and mix them down into a final audio file.
What DAWs Does Focusrite Scarlett Come With?
Currently, with the purchase of a Focusrite Scarlett, they include Pro Tools First and Ableton Live Lite. These are both limited versions of the software, but still with plenty of features to get you started recording.
In addition to the recording software, you also have the option to download the Softube Time and Tone bundle, Focusrite's Red Plug-in Suite and a free XLN Addictive Keys virtual instrument. You also get a 3 month Splice subscription.
Contenders For The Best DAW To Use With Focusrite
To be clear, you could really use any DAW you'd like with your new Focusrite interface. In the beginning, though, the list of options can be overwhelming. Focusrite has also given you a head start with their setup videos on a couple of these programs, which could arguably make them better options in the beginning.
I also understand the feeling of not wanting to take the time to learn an entire program, only to realize you want to use something else. Plus, you're likely going to want to upgrade, eventually, if you start with a Lite version. That, of course, isn't free.
With that all that in mind, we'd like to help point you in the right direction. We've kept this list rather short, so not to overcomplicate things.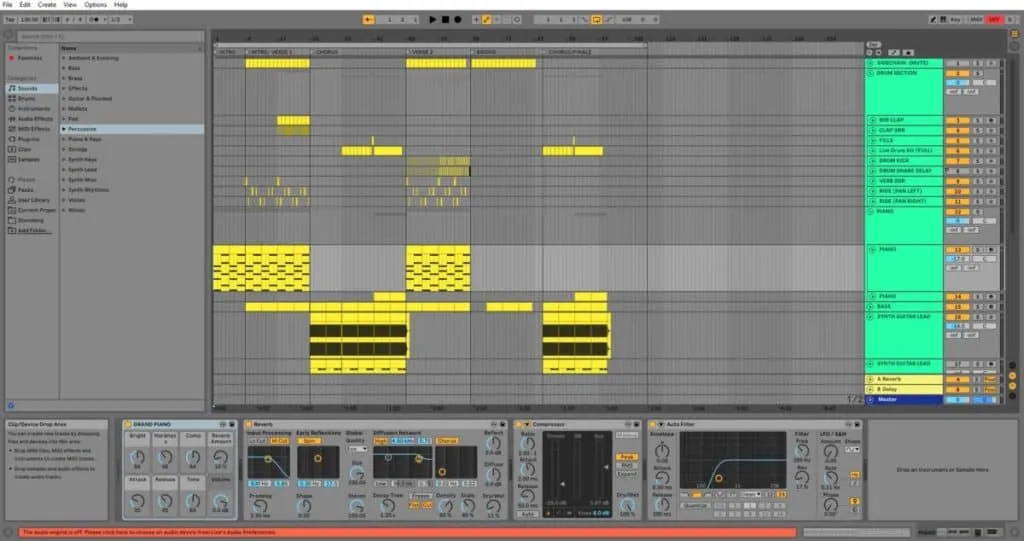 1. Ableton Live
Ableton Live has a very intuitive and easy-to-use interface, which makes learning how to work in this program fast and fun. This DAW is extremely popular in the industry and there are a ton of awesome features.
Perhaps the feature that stands out the most is the Session View. Instead of using the normal view with horizontal tracks (as shown above), you can opt to switch to session view, which is a game-changer for songwriting.
This gives you verticle tracks which encompass a series of loops called "clips". Each horizontal row of clips is called a "scene". Once you decide how you'd like to organize your clips, you can then import the tracks over to the "Arrangement View" and produce the entire song.
Oftentimes, you might just use Session View to create loops for a jam session.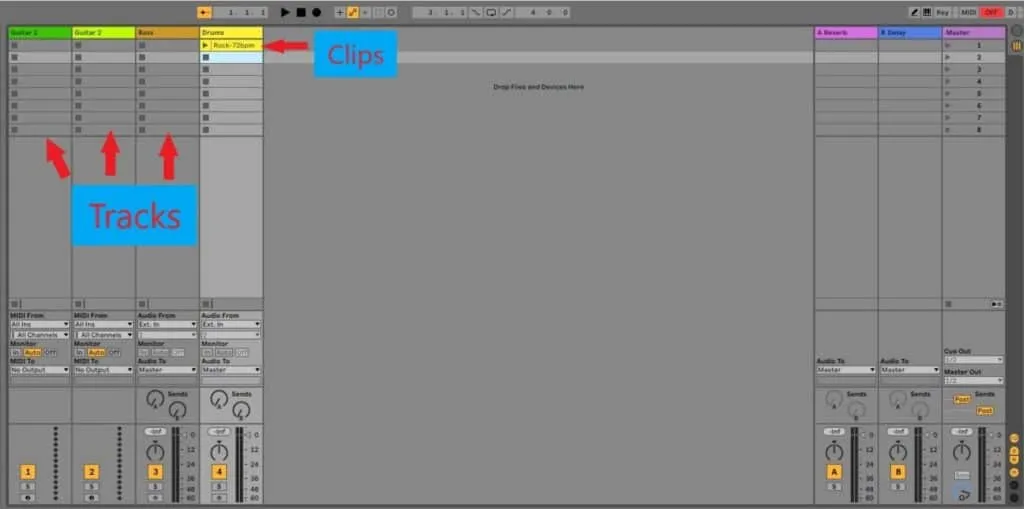 .
Other than that, it has most of what you'd expect from quality recording software including unlimited tracking, multiple sends and returns, MIDI and audio support, built-in effects, virtual instruments and advanced editing capabilities.
Another perk is that there are a ton of free YouTube videos online that show you all the ins and outs of Ableton Live. This is important, not only in the beginning but as you progress in your recording abilities.
There are, of course, downsides. The workflow for laying down serious tracks leaves a lot to be desired. One of the more irritating is that the customization settings for keyboard shortcuts reset with each new project. It should be global. The included sound library is pretty awful as well.
Again, the Lite version of Ableton is also one of the 2 DAWs which were likely included with your Focusrite purchase. You'll have some limitations, like having only 16 tracks available per project but that's plenty in the beginning.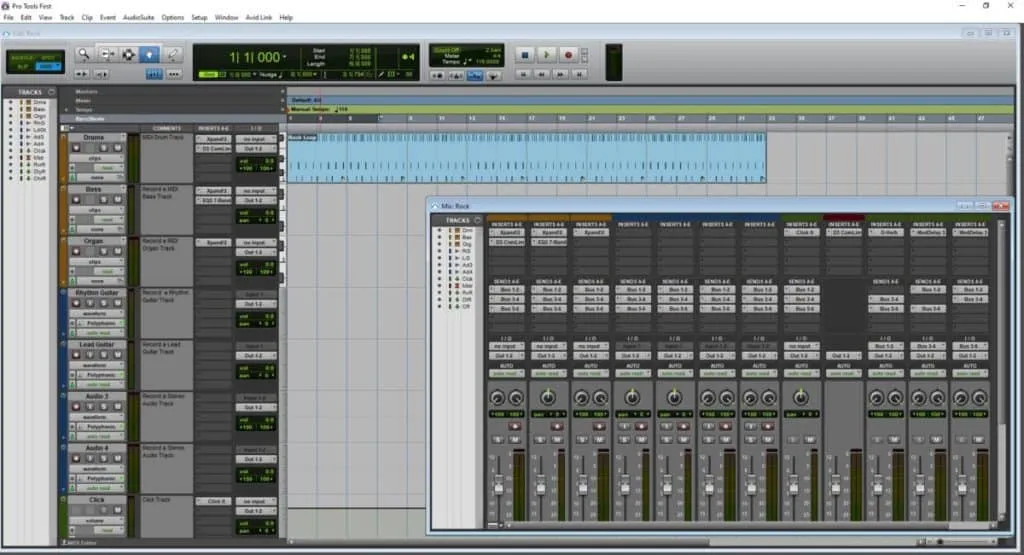 2. Pro Tools
Whether you've done much recording or not, if you've been around as a musician for any period of time you've certainly heard of Pro Tools. The brand name has been synonymous with DAW for decades now.
I would say that if your goal is to eventually become a studio engineer, this may be the direction you should go. The recording quality is pristine and it has very powerful editing capabilities.
Many experts would say that this is the way to go if you're serious about mixing and mastering music. On the other hand, the user interface is outdated, clunky and non-user-friendly. It's also expensive. In my opinion, there are just far better options available for the average person.
One deciding factor for me was that Pro Tools is not compatible with VST plugins. VSTs are the industry standard DAW plugin format widely accepted by most recording programs. They allow you to add countless effects and virtual instruments directly synched with the DAW itself.
That being said, Pro Tools will accept their proprietary AAX plugins. While they are of great quality, this limits your options.
With those things in mind, Pro Tools First should come free with your Focusrite purchase. You'll have the opportunity to experiment without having to shell out any cash.
Pro Tools First limits your project storage to 1 GB, only allowing you to save to the cloud. Other versions let you save to your personal hard drive. It also comes with a fraction of the loop library and audio effects and you'll be limited to 16 tracks (again, plenty to get you started).
3. Cubase
Cubase (found here on Amazon) is another flagship DAW which has been around for decades. The first version was actually released just a few months after Pro Tools (back in 1989!). It also happens to be my personal favorite.
Cubase is a Steinberg product, which speaks to its legitimacy as a quality piece of software. It also has its own cult following of dedicated Cubase users producing great music. With good reason.
This is, in many ways, an entire professional recording studio built into one program. Its features are extremely powerful in both the pre-production and production phases.
Cubase's user interface is well thought out and has been even better refined over the years. It's user-friendly and relatively easy to learn. Combine that with the pro-level recording capabilities and it becomes great for both the beginner or the seasoned studio engineer.
There are many videos online teaching you how to use Cubase, so you should be able to get going pretty quickly. As a bonus, they also have a really affordable product called "Cubasis", which is the iOS version for your iPad.
Cubasis isn't quite as powerful as Cubase, but it is pretty amazing what you can do with it. The full version is really affordable and with Steinburg's Project Importer, you can import a project from one program to the other. You'll probably want the processing power of an iPad Pro to use it effectively.
Now, while the interface is user-friendly, there are so many options it can be overwhelming at first. For Mac users, there have also been complaints of computer glitches.
Thankfully, Cubase offers a 30-day free trial, so you can give it a test drive. The "Elements" version is then actually priced great in comparison to other options. And, you can do A LOT with it.
Other DAWs To Check Out For Your Focusrite Interface:
Which DAW Is The Industry Standard?
Many career sound engineers will argue that Pro Tools is the industry standard for professional recording across the board. At the most established studios in the industry, this probably holds true. If your goal is to eventually work in a professional studio, you'll likely need to know Pro Tools.
As far as home use goes, everyone will have a different answer to this question. Some of the younger generation will say that Pro Tools users are stuck in their ways, and Cubase is the supreme DAW. As far as live performances, DJs, EDM and loop backing musicians go, Ableton is the way to go.
Our Verdict
Personally, I would at least keep the free version of Ableton Live for home use and practice. You may find performance situations where this will come in handy as well, once you have some hands-on knowledge of the program.
Ableton is simply priceless for songwriting and arrangement. You may want to go a different direction for recording projects where you're looking for a finished product. Ableton is capable, but once you know what you're doing, the workflow is better on other DAWs.
That being said, Cubase is probably the best way to go for a complete linear recording project with your Focusrite Scarlett. It's just powerful recording software that will produce professional results. The included VSTs are of great sound quality, but you can still use 3rd party virtual instruments and effects without any issues.
The Elements Version is only $99 as of the writing of this article and you can always upgrade to the Artist version later if you choose to.
Check out the top practice amps for pedals in this article…
Conclusion
Your Focusrite Scarlett is as close to a plug-and-play interface as you can probably get. You can use any DAW you like with minimal setup. This gives you the complete freedom to experiment with some free versions and see what's best for you.
While you're not married to your software, it's my opinion you should stick with your decision until you've seen it through. Pick one program, learn everything you can and then you can decide to experiment again.
I say this as a person who suffers from "shiny object distraction syndrome". It's easy to only scratch the surface in a specific Digital Audio Workstation and then jump to the other. This ends up with a lot of wasted time and not many completed recordings.